Reaction to Clogher clerical abuse report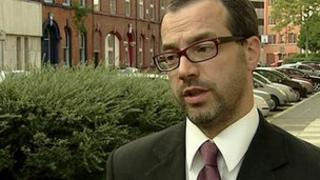 Northern Ireland Programme Director of Amnesty International, Patrick Corrigan, welcomed the publishing of the Clogher clerical abuse report.
"We got yet another glimpse into the horror of abuse suffered by children in parishes in both Northern Ireland and the Republic of Ireland and the way in which figures in the church hierarchy permitted the abuse to continue.
"Yet, church-approved reviews are no substitute for a proper, independent investigation into clerical child sex abuse throughout Northern Ireland," he said.
"It is increasingly clear that clerical child sex abuse happened in Northern Ireland over many years and over many parishes - but only a proper state-instituted inquiry will tell us the extent of the problem and help bring to account those responsible."
Excluded
Mr Corrigan said the abuse knew no borders and that in some cases the abusers were moved across parish and national borders, abusing children as they went.
"Clerical abuse survivors in Northern Ireland have told us they wish to see a proper, independent public inquiry into clerical child abuse in this jurisdiction.
"Survivors of clerical abuse in the Republic of Ireland have seen the government set up a number of inquiries and have seen the Irish prime minister (taoiseach) speak out on their behalf.
"Yet, in Northern Ireland, the Historic Institutional Abuse Inquiry specifically excludes victims of clerical abuse who were not residents of children's homes.
"Amnesty International supports the calls of victims for the Northern Ireland authorities to ensure that independent and thorough investigations are carried out into allegations of clerical child abuse, as well as the response of both church and state authorities to such abuse."
Michael Connolly, was abused by the paedophile McDermott brothers and a parish priest in Donagh, in the Clogher diocese, from 1968 to 1974.
His case was not covered by the Clogher review, but he told the BBC on Wednesday that he and other victims of clerical abuse feel ignored by the Northern Ireland Executive.
Widespread
Mr Connolly and other victims have established a campaign group, Clerical Abuse NI, to call for a clerical abuse inquiry in Northern Ireland.
"I and others who were repeatedly abused as children in Clogher diocese in the 1960s and 1970s, know how the church and the state failed to protect our innocence.
"The National Board for Safeguarding Children report is welcome but falls far short of what is really required - a fully independent investigation by the state to establish the extent and facts of the child abuse which was allowed to take place over many years in this jurisdiction.
Mr Connolly said it was clear that not only did the church fail to protect children, but so did the state, which turned a blind eye to widespread child abuse over many decades.
"Only a proper public inquiry can establish the facts, hold to account those responsible and ensure that this can never happen again.
"On behalf of myself and other child victims of clerical sex abuse, I call on the Northern Ireland Executive to make a public commitment now to establishing such an inquiry. We await their response."