DARD minister insists Ballykelly move "will go ahead"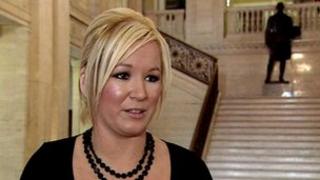 The agriculture minister, Michelle O'Neill, has said the relocation of her department's headquarters will go ahead.
In 2012, the Department of Agriculture (DARD) announced it would move to Ballykelly, County Londonderry.
On Monday, the finance minister, Sammy Wilson, said a survey of DARD staff found 86% were not content with the move.
The 800 staff affected are based at Dundonald House in east Belfast.
Michelle O'Neill said she remained committed to the move to the former Shackleton army barracks.
"There is a commitment in the programme for government to move DARD's headquarters to a rural location," she said.
"Ballykelly is the preferred option and I'm firmly committed to making that happen."
Ms O'Neill said the results of the staff survey did not come as a surprise "because the headquarters in Dundonald have been there for 50 years and most of the staff live in the area".
She said all civil service staff would be consulted and insisted people who refused to move would not lose their jobs
"Under normal civil service rules, people can transfer among departments," she said.
"Around 1,400 civil service staff live closer to Ballykelly then Belfast. I'm quite confident that we have quite a number of staff who want to work closer to home."
The civil service union NIPSA discussed the proposed move on Wednesday.
Noel Griffin said his union supported the decentralisation of public sector jobs.
"However, we have to protect the interests of our existing members who work in headquarters at this point in time," he said.
"We have a commitment that staff will not be forced to move so we see this as a great opportunity for staff in other departments to work closer to home."
People in Ballykelly said it would be a major blow to the village if the relocation did not happen.
In the last decade, hundreds of job have been lost with the closure of the army base in Ballykelly and the Seagate factory in nearby Limavady.
Economic
David Brewster from the Roe Valley Chamber of Commerce said the relocation of DARD's headquarters was "vitally important" for the economic recovery of the north west area.
"I never understood why the Department of Agriculture has to be in Belfast where they wouldn't know what a cow or a sheep looks like," he said.
"Every morning, the Glenshane Pass is full of people from Limavady, Londonderry and further afield travelling to Belfast to work.
"I don't see why people can't make the reverse journey."