Maze shrine fears are 'scaremongering garbage'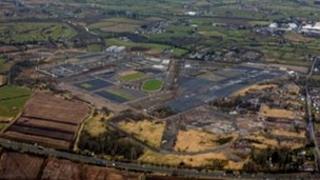 The first and deputy first ministers have been defending the redevelopment of the former Maze prison site at the launch of a plan for the huge site.
Peter Robinson described as "scaremongering garbage" the idea that the old jail and peace centre would become a shrine to terrorism.
Martin McGuinness said it would be a "shrine to peace".
Only a small part of the site will include the new peace centre and what remains of the former jail.
Twice as large as Belfast's Titanic Quarter and four times the size of London's Canary Wharf, it is the largest development site in public ownership.
Its proximity to ports, airports and major transport corridors are hoped to make it an attractive location for investment.
The site has also been a World War II airfield, a motor racing circuit and a military camp.
The Maze/Long Kesh Development Corporation (MLKDC) expects its plans to attract 5,000 permanent jobs and £300m of investment.
"It is estimated that, during the development phase, 2,000 badly needed jobs will be created in the hard-pressed local construction industry," a spokesperson said.
'Already changing'
The MLKDC's Terence Brannigan said the organisation already had "significant international interest" shown in developing the site.
"We anticipate that global investors will be excited about what is an unprecedented development opportunity," he said.
"For the people of Northern Ireland, in these very difficult times, it is an opportunity we simply cannot afford to ignore."
Mr Brannigan said the Maze/Long Kesh development is already the region's largest construction site, with nine local construction companies and 24 material suppliers involved.
"I am acutely conscious of the sensitivity of this site, but Maze/Long Kesh is already changing," he said.
"In a couple of weeks we will welcome the Balmoral Show to Maze/Long Kesh.
"The show is a new chapter in the long and varied history of this site and a new phase for the Royal Ulster Agricultural Society."