Pat Finucane murder: Court reveals awareness of 'systemic problem'
Ireland correspondent Andy Martin analyses the latest development in the campaign for a public inquiry into the murder of Belfast solicitor Pat Finucane.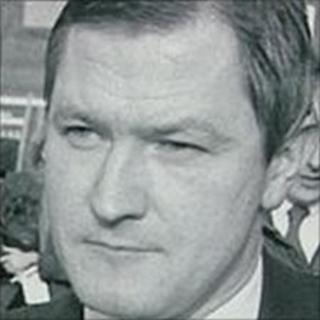 Pat Finucane was shot dead in front of his family in February 1989. At least two loyalist paramilitaries, who were also operating as agents for the security forces, were involved in the killing.
A court has now revealed the prime minister's former director of security and intelligence warned him that senior members of Margaret Thatcher's government may have been aware of "a systemic problem with loyalist agents" at the time.
David Cameron's then security adviser, Ciaran Martin, also told the prime minister in 2011 that those senior government figures may have been aware of the problem shortly after the murder, but that no action was taken.
'The big one'
Mr Finucane's family has always maintained that knowledge of the plan to kill him went higher than rogue elements within the police and army.
Mr Cameron has refused to hold a public inquiry into the shooting. Sir Desmond de Silva concluded his independent review of all documentation relating to the killing in January. He concluded that there was no over-arching state conspiracy to murder the solicitor.
The Finucane family has been seeking the disclosure of documents relating to the prime minister's refusal to hold a public inquiry.
During the course of that hearing, a paper sent to Mr Cameron in July 2011 by Mr Martin, was referred to by the judge hearing the case.
It states: "In terms of allegations of British state 'collusion' with loyalist paramilitaries, this is the big one.
"Some of the evidence available only internally could be read to suggest that within government at a high level this systematic problem with loyalist agents was known, but nothing was done about it.
"It's also potentially the case that credible suspicions of agent involvement in Mr Finucane's murder were made known at senior levels after it and that nothing was done; the agents remained in place. These two points essentially aren't public.
"Paid state agents were directly involved in the killing, including the only man ever convicted of involvement in it."
The judge, Ben Stephens, has ordered that minutes of cabinet meetings and correspondence between MI5 and the Northern Ireland Office be disclosed to the court. He is due to make a decision as to whether they be handed over to the Finucane family's legal team at a later date.
The government has argued that to identify individual ministers who had taken part in discussions to refuse a public inquiry "undermines the doctrine of joint responsibility."