Safety campaign launched amid 'sudden increase' in NI road deaths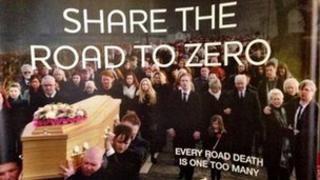 The number of road deaths in Northern Ireland to date in 2013 is twice what it was over the same period last year.
The total number of fatalities since 1 January stands at 17.
The Department of the Environment released the figures at the launch of a new road safety campaign in Belfast on Wednesday.
The Share the Road to Zero initiative aims to portray the human sorrow behind the deaths by showing the impact on the families left behind.
The Environment Minister, Alex Attwood attended the launch of the new campaign.
"Year on year, the number of deaths are reducing but clearly in the last four months there has been a sudden increase" he said.
"That tells me for people to be more careful and also not to give up on the ambition of zero deaths on our roads" Mr Attwood added.
Records of the number of road fatalities began in 1931 and since then 14,570 people have died on Northern Ireland's roads.
In 2012, road fatalities were the lowest on record.