DUP MP Nigel Dodds in hospital after taking ill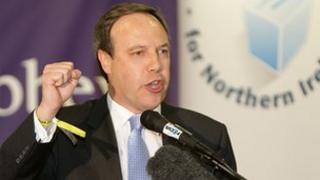 Democratic Unionist Party MP Nigel Dodds has been taken to hospital after falling ill.
Mr Dodds, 54, felt unwell in the party office in London on Wednesday morning and was taken to hospital by ambulance.
The North Belfast MP was in Westminster to attend the House of Commons. He is the leader of the DUP at Westminster.
In a statement, DUP leader Peter Robinson said Mr Dodds hoped to be discharged on Thursday.
Mr Dodds' wife, Diane, who is an MEP, has flown from Brussels to be with him.
Mr Robinson said: "Earlier today whilst preparing for Prime Minister's Question Time, in our Westminster party office, Nigel felt unwell.
"An ambulance was called and he was taken to a local hospital where he has received medical treatment.
"I have spoken with Diane this evening. Nigel is in good spirits and is feeling much better. He will be staying in hospital overnight for observation but hopes to be discharged in the morning.
"Everyone in the party wishes him a full and speedy recovery. Nigel and Diane would appreciate some privacy and have no plans to make any further comment at this time."
Earlier, BBC Northern Ireland's political editor Mark Devenport said tests were being carried out on the MP.
"He was inside the DUP's office when he complained of a severe headache. He was taken ill and was rushed to hospital," he said.