YMCA to open £1.7m centre in Lurgan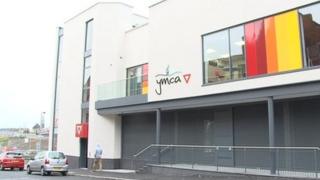 A state-of-the-art £1.7m YMCA facility is due to be opened later in Lurgan, County Armagh.
The International Fund for Ireland provided £856,000 of funding towards the new premises on Carnegie Street.
It brings together the work of the YMCA from two separate sites in the town.
Hugo Dale, chief executive of Lurgan YMCA, said it was "one of the most exciting projects in the Lurgan area in years".
"It opens up many opportunities to meet the needs of various groups and individuals and to build good relations and social inclusion within our community," he said.
"The extra space also means that we can now organise more than one activity at any time.
"We will work towards providing more experiences and challenges to inspire all our users to meet their full potential."
Jamie King, a volunteer at the Lurgan YMCA said: "About two or three years ago Lurgan got a really bad name for itself. Then we got the go-ahead to build this building.
"We are going to be using it for the youth and community."
The new 11,000 sq ft centre brings together the work of Lurgan YMCA, from separate sites at either side of the town centre.
The new complex includes facilities for various youth programmes, meeting rooms, a climbing wall and, to generate a long term income, retail units.
The International Fund for Ireland provided funding towards the facility through its Leaving a Legacy programme.
The International Fund for Ireland is an independent, international organisation established by the Irish and British Governments in 1986.
The fund's main objectives are to promote economic and social advance and encourage contact, dialogue and reconciliation between unionists and nationalists throughout Ireland.