Lower Lough Erne: Police to close lake for G8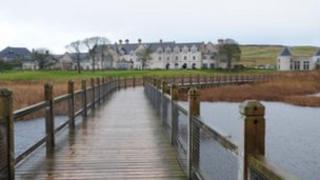 Lower Lough Erne will be closed for a time in June, according to the police's plan for the G8.
The leaders of the world's wealthiest countries will be staying at the Lough Erne resort in County Fermanagh, which is hosting the summit, on 17 and 18 June.
The summit has been organised by the Foreign and Commonwealth Office.
It will be attended by the leaders of Canada, France, Germany, Italy, Japan, Russia, the UK and the US.
The Police Service of Northern Ireland (PSNI) said a significant operation will be in place in the lead up to and during the G8 Summit on 17 and 18 June.
"There will be a closure of Lower Lough Erne from the lock gates at Portora to an area north of the venue adjacent to Ross Point, " a police spokesperson said.
"During the closure, no form of boat or vessel movement will be permitted within the closure zone, however shoreline activity such as land-based fishing will be permitted. There will be stand off markers in place in advance of each closure."
The PSNI said the closure is to "help safeguard lough users and to protect them from damage or injury" and would be enforced for as short a time as possible.
The lough closure will begin at lunch time on Sunday 16 June and run until the night of Tuesday 18 June.