Southern trust to shut all its NHS residential care homes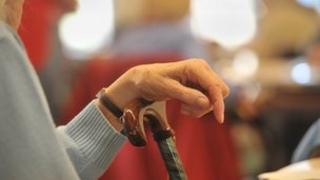 A second health care trust in Northern Ireland has confirmed it is planning to close all the NHS residential care homes for elderly people in its area.
The Southern trust operates five homes that care for almost 80 residents.
In a statement to the BBC's Nolan Show, the trust said it has already stopped admitting long-term residents and would consult on plans to shut the homes.
The statement came two days after the Northern Health Trust made a similar announcement about its nine homes.
The proposed closures are part of a wide-ranging reform of the provision of care for the elderly across Northern Ireland.
Under the Transforming Your Care reform programme, NHS services will focus on helping elderly people to live in their own homes for as long as possible, rather than providing residential care.
The homes affected by the Southern trust's closure plans are Crozier House in Banbridge, Skeagh House in Dromore and Slieve Roe in Kilkeel, all in County Down; Cloughreagh House in Bessbrook, County Armagh, and Roxborough House in Moy, County Tyrone.
Private homes
The trust confirmed that the decision to cease permanent admissions to all five homes had been taken at its board meeting last month, in order to "minimise the number of residents who will be affected as the number of homes reduce".
It added that the move would not affect patients who are currently in receipt of day care or respite care at the facilities.
"This decision was taken following the minister's decision to reduce statutory residential care, and will not affect the large number of people the trust has placed in private residential care and nursing home care," the statement said.
The Southern trust said that, at present, it has fewer than 80 residents in its five statutory residential homes.
That compares to 262 people in private residential homes and 1351 people in private nursing homes in the trust's area.
Technology
Angela McVeigh, the Southern trust's director of older people and primary care, said: "We are committed to treating each resident as an individual and working with them and their families and carers to ensure their needs are met through any change to the home in which they currently live."
She added: "There will be focus on helping people remain at home for as long as possible, and offering more choice and control about the type of care available."
Ms McVeigh said the trust had already introduced "a range of new enhanced services" to support elderly people in their own homes.
These included technology such as "telemonitoring and telecare".