Ford 'treated harshly' by own church over gay marriage support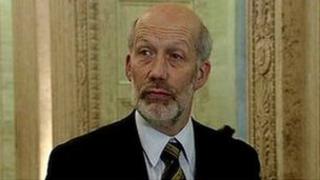 Lord Alderdice has said his successor as leader of the Alliance Party, David Ford, has been treated harshly by his church over his political support for gay marriage.
Earlier this month, Mr Ford stepped aside as an elder at Second Donegore Presbyterian Church.
His position on the controversial issue is to be examined by the church.
Lord Alderdice said Mr Ford's faith was very important to him and that this would be a difficult time for him.
Speaking on BBC Radio Ulster's Sunday Sequence programme he said: "He is elected by the electors of his constituency to represent all their views and yet what's been suggested, more than suggested, is that he has got to take a very particular line on a piece of legislation.
"I think that's an extremely difficult position for him and it seems to me that the way that he has been treated has not been characterised by the kind of brotherly love, concern and thoughtful engagement that ought to be characteristic of the church."
The Alliance Party supports same sex marriage in Northern Ireland, while the Presbyterian church strongly opposes the move.
Second Donegore Presbyterian Church declined to comment when approached by the BBC.