Villiers calls for sectarian-free Northern Ireland society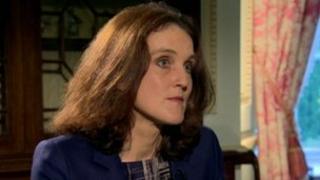 The Northern Ireland secretary has said it is depressing that some young people involved in disorder earlier this year, were not born at start of the peace process in the 1990s.
Theresa Villiers has called for a sustained effort to build a society free of sectarianism.
She also warned that lawlessness sends a negative message round the world.
Her comments come in a speech marking the 15th anniversary of the Good Friday Agreement.
Ms Villiers is due to hold meetings on Monday with the Irish foreign minister and the first and deputy first ministers.
She said trouble on the streets damaged Northern Ireland's reputation and its ability to compete economically.
Ms Villiers described her talks with the executive as a two-way street; the greater their ambition on building a shared future, the more the UK Government would be prepared to help.
Earlier this month, Ms Villiers said an economic package aimed at helping business in Northern Ireland may be withdrawn if the executive failed to make progress on a shared future.
Ms Villiers denied such a condition amounted to blackmail.