Receiver appointed to Xtra-vision group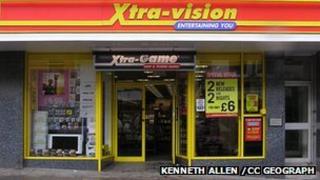 A receiver has been appointed to DVD and video rental chain, Xtra-vision, which employs 242 staff in Northern Ireland.
The company has 42 stores in Northern Ireland.
Ernst and Young said all the stores would remain open while it seeks to find a buyer for the business.
It is understood suppliers to the company were unable to secure credit insurance in the past 10 days.
This meant that they were no longer in a position to extend credit to Xtra-vision.
The company has its headquarters in Tallaght, outside Dublin and operates 152 stores in Ireland, employing 1,023 people.
Potential purchasers
The receiver said Xtra-vision had more than 400,000 customers, adding that customers should remain unaffected by the receivership.
All gift cards, cash deposits and savings club amounts will be honoured.
Luke Charleton of Ernst and Young said: "We are advised that the majority of stores are profitable and collectively will be attractive to potential purchasers.
"We will work closely with management to assess the viability of each of company's stores.
"We will advertise the business seeking expressions of interest from third parties with a view to securing the early and successful disposal of the Xtra-vision, thereby ensuring the continuation of the business."