Fermanagh woman 'abandoned' by health service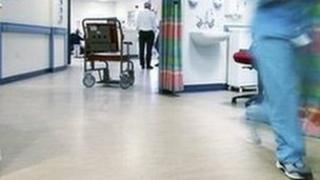 The family of a Fermanagh pensioner who has been waiting seven months for surgery on her broken arm have said they feel abandoned by the health service.
They said she is in constant pain since the fracture last October. She was told at the time she needed a plate fitted.
Her son said his mother felt let down by a system she had once believed in.
The Western Health and Social Care Trust said it intended to reduce waiting times by renovating wards.
The woman's son said the family, who did not want to be identified, was appealing to the health minister for help.
"You can see the physical effects in her stature, due to loss of muscle and stuff on one side of her body," he said.
"Emotionally, she feels let down by a system that she would have had great faith in.
"She couldn't have foreseen that anybody could ever have been treated like this."
'Reduce waiting time'
The Western Health and Social Care Trust said it could not comment on individual patients or their treatment for reasons of confidentiality.
It said, however, the trust was working with the Health and Social Care Board, and was "doing all that it can to reduce the waiting time for planned orthopaedic surgery".
"It is important to recognise that the demand for planned orthopaedic surgery across the whole of Northern Ireland is greater than the existing capacity to provide the service," the trust said.
"The service in the west was further affected by the fire incident at Altnagelvin Hospital in November 2012."
The trust said bed capacity had been reduced by 50% after the incident, from 24 beds to 14, but it intended to increase bed numbers by renovating existing wards.