More than 44,000 animal carcasses recovered after Northern Ireland snow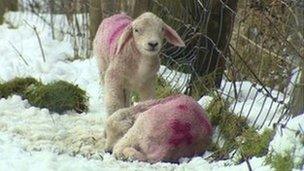 More than 44,000 farm animal carcasses have been recovered in Northern Ireland after last month's heavy snow, the Department of Agriculture has said.
A spokesman for the Stormont department confirmed the latest death toll on Monday.
The vast majority of the casualties were lambs, and to date 30,413 lamb carcasses have been collected.
The revised death toll also includes 12,553 sheep, 1,159 cattle and 34 goats.
Most of the animals died in the Glens of Antrim and in the Mourne mountains in County Down.
Many rural families were trapped in their homes last month, after days of severe weather resulted in snow drifts reaching 18ft (5.5m) in some areas.
Thousands of farm animals were stranded snow-covered fields, and farmers could not reach them to provide food or shelter.