Hadron Collider exhibit coming to Queen's University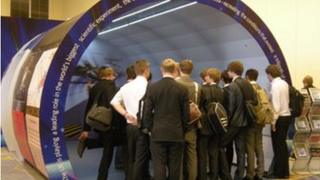 The world's largest science experiment, the Large Hadron Collider (LHC), is coming to Northern Ireland.
The exhibition, from 4-10 May, is being hosted by Queen's University in Belfast.
The public will be able to walk through a full-size replica of a section of the LHC tunnel.
They can also meet physicists involved in answering some of the biggest mysteries of the universe by re-creating conditions after the Big Bang.
The big bang is the event that, according to prevailing scientific theory, brought the universe into being.
Visitors will also be able to experience a number of interactive exhibits that create a feel for what it is like to be a particle physicist working on the world's most powerful atom smasher.
'Special event'
Developed by the Science and Technology Facilities Council (STFC), the exhibition will also feature a lecture from physicist Prof Peter Higgs, the man behind the Higgs Boson particle theory on how matter attains its mass.
Dr Steve Myers, a Queen's graduate and director for accelerators and technology at CERN, the organisation that built and operates the LHC in Switzerland, will also give a talk.
The LHC accelerates two beams of subatomic particles to nearly the speed of light and then deliberately collides the beams into one another to re-create the conditions that existed just milliseconds after the Big Bang.
Very sensitive detectors around the tunnel then record information about the types and properties of the particles given off.
Dr Myers said: "As a Queen's graduate I'm delighted to return to the university for such a special event.
"For many people it will be a once-in-a-lifetime opportunity to see the real-life application of physics and science in such a setting."
Dr Myers is currently leading the team that is undertaking the major maintenance and upgrade work of the LHC to enable it to run at twice the energy when it turns back on in 2015.
Prof Alan Fitzsimmons, from the School of Mathematics and Physics at Queen's, said: "This is the first time a major exhibition on the work on the LHC has come to Northern Ireland.
"Queen's graduates have gone on to work at CERN, the European Organization for Nuclear Research, as well as other major scientific organisations like Nasa and the European Space Agency.
"This is an opportunity for potential students and the public alike to see how Queen's and physics is having a real impact."