Martin Luther King III set for Londonderry peace event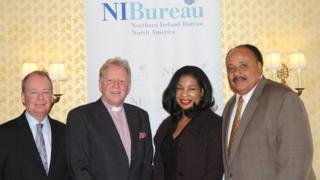 The son of the American civil rights leader, Martin Luther King is set to visit Londonderry next month as part of a peace-building event.
Martin Luther King III will give the keynote address at the five-day Bright Brand New Day event.
The event is being organised by the minister at First Derry Presbyterian church, Reverend David Latimer.
Mr King will spend four days in Northern Ireland and will speak at Guildhall Square on Sunday 19 May.
Rev Latimer said getting Mr King to attend was "extremely fortuitous".
"If anyone can be used to re-energise a fragile peace process and empower a city and its people to believe that a new life can be shaped, it is Martin Luther King III," he said.
"Mr King has previously said, 'If we do not find that we have more in common than we do apart we will crash'.
"We are being given a unique opportunity to tune into the message of a man who has a vision for building shared societies and convincing people that difficulties can be resolved in non-violent ways. As we all know to our cost, a house divided against itself cannot stand."
The Bright Brand New Day event at Guildhall Square will be open to the public.
Mr King will meet former SDLP leader and Nobel peace laureate, John Hume, who received a Martin Luther King Peace Award for his work on the Good Friday Agreement. He will also visit Parliament Buildings at Stormont, for talks with local MLAs.
A Bright Brand New Day is a cross-community, cross-border peace-building project, which runs alongside the UK City of Culture programme. It was launched last November in First Derry Presbyterian church.