Toxic waste dumped 10 times in same road in south Armagh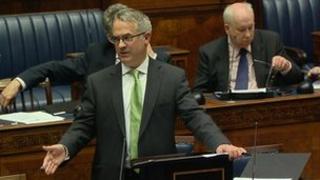 Toxic waste from fuel laundering has been dumped along the same road in south Armagh ten times, Stormont's environment minister has revealed.
Alex Attwood gave the details to the assembly when he was asked about cross-border co-operation on fuel smuggling.
He said hauliers' representatives had told him they believed up to 50% of hauliers were now using illegal fuel.
The roads minister, Danny Kennedy, said describing border fuel smuggling as an "epidemic" no longer did it justice.
Mr Kennedy told MLAs he believed republican paramilitaries were gaining from the proceeds of fuel laundering in south Armagh and it was having a "sinister impact" on community relations in the area.
The ministers made the remarks as they updated MLAs on the details of a recent north-south ministerial meeting, set up to promote greater co-operation between government departments in Northern Ireland and the Irish Republic.
'Escalation'
The DUP asked Mr Attwood to outline the nature and extent of illegality detected in haulage and transport industries, as a result of such cross-border co-operation.
The environment minister said the situation regarding the use of illegal fuel was "acute" and an escalation in the authorities' response to the problem was required.
Mr Attwood told MLAs: "I have a map, for example, in my department where we have identified those parts of the north, in particular in south Armagh, where there has been multiple occasions where fuel sludge has been abandoned in essentially the same place, for that then to be collected by the relevant authorities.
"There is a road in Northern Ireland where sludge has been dumped following fuel laundering on ten separate occasions, at about the same location."
'Savings'
Mr Attwood said he had met representatives of the Road Haulage Association on Monday and they had expressed concerns about the impact laundered fuel was having on those firms who obeyed the law.
"It is their view, for example, that even in the last number of months, because of challenging economic circumstances, and given the benefit (and I use that word in a very neutral way) to hauliers who use illegal fuel, in terms of savings per gallon and benefit per mile, that it is having a hugely disproportionate impact on legitimate business," he said.
"It is the view of legitimate business that up to, and maybe in excess, of 50% of hauliers are now using illegal fuel and that those multiple, small family businesses in particular in the north, who have served this part of the world very well over many years, that they are now facing the most immediate threat given the scale of illegal use."
Mr Kennedy said many unionist constituents living in isolated rural areas close to the border had contacted him about fuel smuggling and abandoned toxic waste near their homes.
'Paramilitaries'
"It was put to me frankly, when I was told 'they're dumping the diesel where once they were dumping the bodies'," Mr Kennedy said.
The roads minister added: "That has very sinister implications for what is called a shared future."
He said that the law of the land had to extend to all areas, including south Armagh.
"It is inescapable to me that monies generated from this black economy and this illegal activity ultimately will find their way back to republican paramilitaries," Mr Kennedy told the assembly.
The BBC asked Mr Attwood's department to identify the road on which the minister said toxic waste had been dumped on ten occasions.
However, a spokeswoman said that "unfortunately the information held by Northern Ireland Environment Agency on the locations of dumped laundered fuel residues is used in the investigation of criminal offending and is passed to other authorities for further criminal investigation".
"Therefore NIEA are not in a position to release this information," she added.