G8 summit: 3,600 extra police officers being flown to NI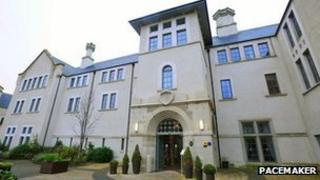 PSNI chief constable Matt Baggott has said an extra 3,600 police officers are being flown into Northern Ireland next month from Great Britain for the G8 summit.
Mr Baggott said Northern Ireland was a "safe place to work and live".
He said he would be doing everything to ensure "it was the most successful G8 summit in history".
World leaders are to gather for two days at Lough Erne golf resort in County Fermanagh on 17 and 18 June.
Secretary of State Theresa Villiers said it would be one of the biggest policing operations ever in Northern Ireland, with mutual aid from Great Britain and 600 private security staff from G4S and others.
It will be the first time the annual summit has been held in the United Kingdom since it was at Gleneagles in Scotland in 2005.
Mr Baggott said protesters would not get within sight of the world leaders and that they would have the space to get on with their "important work".
"Military will be providing assistance to the police during G8," he added.
He said he had received "huge support" from police in Great Britain, the Republic of Ireland and Canada.
PSNI assistant chief constable Alastair Finlay said it was possible some G8 leaders would visit other parts of Northern Ireland but nothing had been requested yet.