Four men jailed over 'Red Hand Defenders' blackmail plot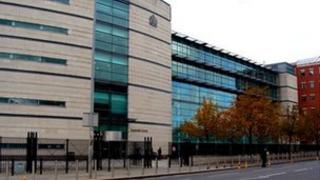 Four men have been jailed over a blackmail plot in which a couple were threatened with paramilitary attack if they did not hand over £15,000 in cash.
Bullets were posted to them, claiming to be from "the Red Hand Defenders".
The gang, which included a convicted killer, typed their demands on a toy typewriter, Belfast Crown Court heard.
Gary Fulton, Philip Blaney, and Mark Briggs were jailed for five years, while Daniel Hamilton was jailed for two years and eight months.
Fulton, Blaney, and Briggs had pleaded guilty to two counts of blackmail while Hamilton admitted aiding and abetting blackmail.
The court heard that the unnamed couple - known only as Witnesses A and B - had been targeted by two hand-delivered letters containing bullets at their home and business addresses on dates between 21 February and 24 March 2011.
The letters demanded that they pay £15,000 or face "action with extreme prejudice by the Red Hand Defenders".
'Barbie typewriter'
The court heard that Fulton, from Gillespie Court in Comber, County Down, and Briggs and Blaney - who are neighbours from Westland Road, Portadown - used Hamilton as a "conduit" to target the couple.
Hamilton from the Old Mill Manor, Laurelvale, knew the couple and pleaded guilty at an early stage.
Outlining the case, a prosecution lawyer said that Witness A agreed to pay the gang after receiving a number of further demands threatening that his house and business would be attacked.
However, he had also sought the help of police.
During a subsequent police raid on Blaney's home, a Barbie electric typewriter was discovered, which the police strongly believed was used to type out the gangs' demands.
The prosecution lawyer described how the first set of threats were followed up by a petrol canister being placed in a lorry owned by Witness A.
PSNI surveillance
During a mobile phone call the following day, Witness A was asked how he liked his "present" and was warned that the next petrol canister would be "ignited".
A meeting between Witness A and Hamilton was then arranged, under police guidance.
Under PSNI surveillance, the pair met at Rushmere Shopping Centre in Craigavon, County Armagh, where Hamilton was handed a bag containing £5,000.
Surveillance officers watched Hamilton driving off and travelling to Blaney's home on Westland Road, Portadown.
Hamilton and Blaney were then observed walking from the house to a car, where they handed articles to Briggs. Shortly afterwards, Fulton emerged from a nearby vehicle and the gang then went back towards Blaney's house while Hamilton waited outside.
Uniformed police then swooped on the gang.
Chased
Blaney ran from the scene and tried to dump a backpack containing the money on a nearby rooftop.
However, he was chased by officers and all four men were subsequently arrested.
The court heard that the gang had targeted the couple for blackmail because, aside from their legitimate business interests, they had cultivated a substantial cannabis farm.
Witness A and B have subsequently been convicted over the drugs offence, the court was told.
In mitigation, the court heard Hamilton had pleaded guilty at the earliest opportunity and beyond this incident was not believed to be involved in criminality.
The judge was told Briggs had turned to drugs after the early deaths of his parents and later break-up with his long-term partner while Fulton came from a "respectable family background" and now expressed his "regret" at becoming involved in the plot.
Blast bomb
Blaney's defence lawyer said although his client had a criminal record he was now "seriously considering his lifestyle choices".
Blaney had previously served a jail sentence for the manslaughter of a Portadown grandmother who was killed in a loyalist blast bomb attack in 1999.
The police have welcome the blackmail convictions and sentences.
Det Supt Philip Marshall, from the PSNI's Organised Crime Branch, said it was the culmination of a complex investigation.
"I would like to pay tribute to the investigators involved and to the continued support from the victims in this matter."
He said blackmail can be a difficult crime to combat but that police have systems in place to ensure that those responsible are apprehended.
"Today's sentencing demonstrates that the police and partners within the criminal justice system will bring those responsible for terrorising people to court and that those who are made amenable can expect to receive substantial sentences."