Unionist leader Mike Nesbitt 'appalled' by teaching guide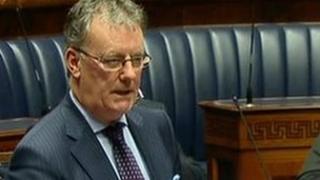 The Ulster Unionist leader Mike Nesbitt has said he is "appalled" by an English teaching guide dealing with the hunger strikes.
The guide, distributed to secondary school children, accompanies the novel Bog Child by Siobhan Dowd.
Mr Nesbitt said he was not criticising the novel but objecting to elements of the accompanying teaching guide.
He said the guide pointed children to republican writers rather than to historians or journalists.
The source materials suggested included Danny Morrison, Richard O'Rawe and Bobby Sands, he said.
Mr Nesbitt told the Northern Ireland Assembly he also objected to testimonies in the guide that, he said, implied it was shameful to serve as a prison officer at the time of the hunger strikes.
Mr Nesbitt said he was not criticising the novel, which he has not read.
The main character in the novel has a brother on hunger strike in prison during the Northern Ireland Troubles.
The novel is described by the publishers as "exploring the sacrifices made in the name of peace, and the unflinching strength of the human spirit".