Heather Noble breaks down in witness box in cheque fraud case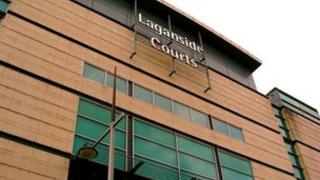 A woman accused of conning her elderly mother out of more than £40,000 broke down in Belfast Crown Court as she tearfully denied defrauding her mother.
Ruth Noble, from Aughnabrack Road in north Belfast, is accused of forging her mother's signature on cheques.
The 49-year-old denies two charges of theft, two of forgery and a further seven of fraud by false representation.
She told the court her mother would not have allowed her to conduct any of her affairs against her will.
Giving evidence on her own behalf, the defendant said her elderly mother was "sharp as a tack".
'Seriously ill'
The pensioner, Johnina Noble, was in her late 70s at the time the alleged offences took place and has since died.
The case arose after the defendant's eldest brother, Raymond, contacted police to ask them to investigate a series of 32 disputed cheques.
Ruth Noble claimed that her mother had authorised her to sign the cheques in her presence, some of which were signed after the pensioner had suffered a heart attack and was seriously ill in the Royal Victoria Hospital's high dependency unit.
Mrs Noble, whose health was failing, had asked her daughter to buy her house on the Aughnabrack Road and move into the property with her.
The jury heard that when the alleged offences came to light, an official assessment had been made that the late Mrs Noble was fit to give a police statement in 2010.
'Mother's request'
In her statement, the pensioner denied giving her youngest daughter permission to sign her name on her cheques or a series of transactions totalling £41,000.
Heather Noble however heavily disputed her mother's claims and broke down in the witness box as she recounted how she learned of her mother's death not from her family but when dropping her own daughter at school.
Under cross examination, the defendant claimed she had an "arrangement" with her mother where she would sign cheques in her mother's presence, with her permission.
She said a number of purchases, including a £1,900 medical chair, house refurbishments, electrical equipment, leather sofas, a 4X4 vehicle and amounts to Heather's children, had been at her mother's request.
The defendant denied the prosecution lawyer's suggestion she had informed her mother in 2008 that she was intending to sell the house and that she would have to find somewhere else to live.
The trial continues.