Loyal orders' economic impact in Northern Ireland '£15m per year'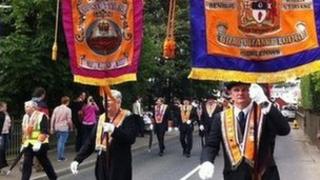 Loyal orders and their bands contribute £15m to the Northern Ireland economy annually, a new report suggests.
The figure included spending on regalia, uniforms, instruments, bus hire and other services.
The report put the value of provision of facilities, community and volunteer work as well as fundraising for charities at an additional £39m a year.
The report was compiled for the Department for Social Development by RSM McClure Watters.
The cost of policing Northern Ireland parades last summer was estimated to be £7.4m.
RSM McClure Watters surveyed members of the loyal orders, focus groups and stakeholders, like caterers and regalia suppliers, for the report.
Tourism revenue - taking into account those who travel to Northern Ireland specifically to watch or take part in parades and associated events - was not included in the final figures.
Social Development Minister Nelson McCausland said: "For the first time we now have extensive, robust and independently collected data on the social and economic impact the sector delivers to our society.
"As minister with responsibility for the voluntary and community sector, I am particularly impressed with the amount of charitable and voluntary work undertaken by the loyal orders and marching bands and the many positive aspects it brings to the community.
"The loyal orders support local communities through the provision of 750 community facilities located throughout Northern Ireland which are used, not only by the loyal orders and bands, but also a range of other groups."
The SDLP economy spokesman, and chairman of the Enterprise Trade and Investment Committee at Stormont, Patsy McGlone has said there should also be a report into the economic and social benefits of the Gaelic Athletic Association.
"I welcome the collection of any data which gives us a fuller picture of the social and economic factors that contribute to our society," he said.
"While not equating the two, I believe a similar study into the economic and social impact of the GAA across the north must be commissioned by DSD as well as the cultural benefits fully factored in through the Department for Culture, Arts and Leisure."