Norman Moffatt murder: Witness admits tranquiliser addiction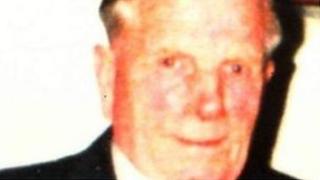 A witness for the prosecution in the Norman Moffatt murder trial has admitted she was addicted to prescription drugs when she said the accused made a confession to her.
James Alexander McCook, 43, denies murdering the pensioner in 2001.
Mr Moffatt was attacked on Railway Road in Coleraine, County Londonderry, and died two months later.
Martha Brown told the court on Tuesday that Mr McCook told her at a party in 2006 that he had stabbed Mr Moffatt.
Under cross examination at Antrim Crown Court on Wednesday, Ms Brown denied being an alcoholic in 2006 but admitted that she was addicted to diazepam and temazepam at the time.
On Tuesday, Ms Brown told the court Mr McCook had made the confession at her cousin's house after a night out in which she had bumped into him at a pub.
After the stabbing, Mr Moffatt was taken to Causeway Hospital in Coleraine for emergency surgery but remained critically ill.
A few weeks later, he was transferred to the Ulster Hospital where he died.
Mr McCook was arrested in Stockport last year.
The case continues.