John Larkin to challenge stillbirth inquest decision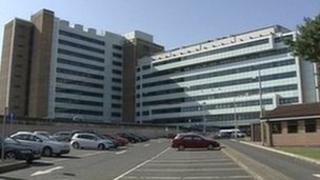 Northern Ireland's attorney general is to appeal a High Court ruling that no inquest can be held into the death of a stillborn child.
John Larkin QC is challenging a decision that senior coroner John Leckey was right to refuse to examine the birth of Axel Desmond.
He was delivered at Londonderry's Altnagelvin Hospital in October 2001.
Earlier this month a judge held that such an inquest would be beyond Mr Leckey's legal powers.
Papers confirming an appeal against that verdict are now set to be lodged.
Axel Desmond was stillborn at Altnagelvin Hospital - one of 112 such cases that year across Northern Ireland.
His mother Siobhan went into labour two weeks after her due date.
She had planned to give birth at her home in Londonderry but following complications was admitted to hospital where Axel was born by emergency caesarean section.
Staff tried unsuccessfully to resuscitate him.
The attorney general issued judicial review proceedings after the coroner declined to comply with his direction to hold an inquest.
His lawyers argued that such a tribunal should be held for a stillborn child who was capable of being born alive.
Legislation
It was contended that the Coroners Act (Northern Ireland) 1959 does not include any clear prohibition.
But counsel for Mr Leckey claimed the legislation only covered death after a live birth.
Mr Justice Treacy upheld the coroner's position on the basis that the legislation did not give jurisdiction for stillbirths.
A spokesman for the attorney general confirmed on Wednesday that the ruling is to be appealed.
"The papers have been served and are ready to be lodged (in court)," the spokesman said.