Sean Quinn case: Ukrainians to challenge contempt ruling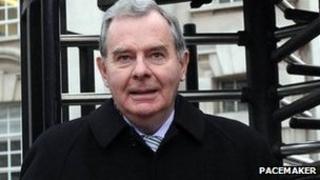 A Ukrainian lawyer and an economist are to challenge a ruling that they were in contempt of court by defying a ban on the disposal of property linked to bankrupt ex-billionaire Sean Quinn.
Oleksandr Serpokrylov and Dmytro Zaitsev were fined £15,000 each by a judge in Belfast, in February.
The pair were told they would be sentenced to four weeks in jail if they did not pay within six months.
It has emerged that they are seeking to appeal the decision.
The fines were imposed on the two men for acting in contempt of an injunction over a £30m shopping centre in Kiev, Ukraine.
Prohibition
The pair, as representatives of an offshore company, were held to have "flagrantly and deliberately" ignored an order against any transfer of debts surrounding the mall.
Lawyers for the Irish Bank Resolution Corporation issued contempt proceedings against Mr Serpokrylov and Mr Zaitsez, and the British Virgin Islands-registered Lyndhurst Development Trading SA, for allegedly flouting the injunction imposed at the Northern Ireland High Court in December 2011.
IBRC, the former Anglo Irish Bank, has been seeking control of Mr Quinn's international empire in an attempt to recoup more than £2bn.
As part of the wider legal battle, Lyndhurst Development Trading was prohibited from enforcing any loan agreement.
It was alleged that the injunction was ignored later the same day at a hearing in Kiev.
Lyndhurst secured judgment from the Ukrainian court that it was entitled to enforce a £30m debt against the firm that owns the mall, Univermag.
In a previous judgement, Mr Justice McCloskey found the property debt was transferred from one of Mr Quinn's companies to put it beyond the reach of IRBC.
Sham
All disputed transactions were declared null and void, with control returned to the former Anglo Irish Bank. A chain of assignments scrutinised in the case set out how County Fermanagh-based firm Demesne Investments, of which Mr Quinn is a former director, was owed £30m by Univermag.
But in April 2011 Demesne transferred its rights to the debt to Innishmore Consultancy, another Northern Ireland company run by Mr Quinn's nephew Peter Quinn. From there the loan was moved on to Lyndhurst.
Lawyers for IBRC argued that the assignment was a sham, part of an asset-stripping exercise carried out at a massive undervalue and not worth the paper it was written on.
Despite securing judgement, they pressed ahead with contempt of court proceedings against Lyndhurst, Mr Serpokrylov, a lawyer, and Mr Zaitsez, an economist.
The two men appeared before the High Court by video-link from Kiev to defend the action.
Mr Justice McCloskey found both them and Lyndhurst in contempt of court.
Although he described the two men as "relatively minor players in the overall scheme" who had acted on their client's instructions, the judge said they had continued to withhold information.
A challenge to his findings could now go before the Court of Appeal later this year