Court told pensioner drove car at police officers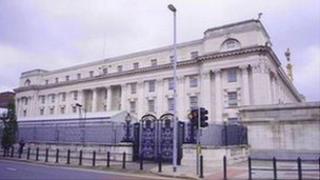 A pensioner who allegedly drove at officers during a police pursuit must remain in custody, a High Court judge has ruled.
John Connolly was arrested after his car collided with a PSNI vehicle during an incident in Newtownabbey on Sunday.
The retired mechanic faces charges of driving while disqualified, having no insurance, dangerous driving and failing to stop, report or remain at the scene of a road accident.
Bail was refused.
The court was told that police on patrol allegedly spotted the 70-year-old in a Ford Focus near his Burneys Mews home in the town on Sunday afternoon.
Mr Connolly's car stopped after officers using emergency lights and sirens followed it onto the Antrim Road.
The prosecution lawyer said: "Police got out of their vehicle and attempted to gain entry to the Ford Focus.
"However, the driver made off in the vehicle and made towards police who had to jump out of its path to avoid being struck."
The car headed across Sandyknowes roundabout before colliding with the pursuing PSNI vehicle and eventually coming to a halt at a dead end on the Ballyvessey Road.
After being arrested and cautioned, Mr Connolly allegedly replied: "No, I will let my solicitor and the Police Ombudsman sort it out."
Opposing bail, the prosecution lawyer claimed no conditions could be imposed to prevent the pensioner getting back behind the wheel.
He added: "It's the prosecution view that the consequent risk of the applicant re-offending is severe and that members of the public are being put at grave risk by him."
Defence counsel said Mr Connolly claims he did not realise he was a disqualified driver.
He told the court his client had worked as a mechanic for the police and had held the force in high regard.
"He instructs it certainly was not his intention to drive at them or injure them in any way," Mr O'Keeffe said.
"He accepts that he did panic."
It was also disclosed that Mr Connolly has been undergoing cancer treatment, with the diagnosis said to have impacted on his state of mind.
Mr Justice Horner described it as a "tragic case" involving a defendant coming before the courts late in life.
Refusing the application, he said: "The question I have to ask, regardless of what sympathy I have for Mr Connolly and the fact he's 70 years of age and obviously infirm, is whether I can impose conditions that would manage the risk of re-offending and risk to the public.
"This is not an appropriate case for bail."