Adventurer Norman Surplus writes letter to President Putin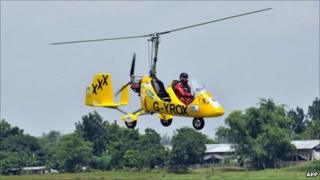 A County Antrim man who is trying to fly around the world in a gyrocopter has appealed to the Russian president for help ahead of the G8 summit.
Norman Surplus, from Larne, has written to Vladimir Putin asking for permission to fly over his country's airspace.
The 49-year-old adventurer left Larne in March 2010 and has so far crossed 18 countries in his world record attempt.
Mr Surplus is a cancer survivor and is using the trip to raise funds for cancer charities.
Since July 2011, his aircraft has been stuck in Japan because the Russian authorities have not granted him permission to fly over their airspace.
Mr Surplus can't cross the wide expanse of the Pacific Ocean in his aircraft and must instead cross the narrower Bering Sea to reach the North American continent.
This means he needs the green light from the Russian civil aviation authorities.
He told the BBC that he can't understand the delay.
"Russia has been the only country in the whole world which has been very difficult. Others have gone out of their way to help and we can't work out why they would be like that," he said.
Appeal
"This is a fairly straightforward flight that would take six or seven days and yet without any reason they have delayed this record attempt by over 20 months."
Mr Surplus has made a direct appeal to Mr Putin, who will be visiting Northern Ireland in June.
In a letter he said: "I am sure you will be afforded a warm welcome in our very small, but very beautiful country.
"I therefore make this simple appeal to you directly... as you are to be hosted in my country, that I could be similarly hosted in yours..."
Mr Surplus's gyrocopter has been stored in Shonai in north west Japan since his journey was halted.
He returned there last week to carry out maintenance work and has applied to fly over Russian airspace on 1 June.
Window
"It's not easy to keep your aircraft in proper working order half way round the world, so we have some work to do to make sure everything is working as it should."
The Larne man has a narrow window in which to cross the Bering Sea - it must happen during the Arctic summer and so he is hoping that the Russian president will intervene and he will be able to continue his journey soon.
During his voyage so far he had faced various challenges including a crash landing in a lake in Thailand.
But he said it is "red tape" that may force him to abandon his record attempt if the Russians do not give him the go-ahead.
After navigating over the Bering Sea his route would take him across North America to Greenland, Iceland, the Faroe Islands, Scotland and then back to Larne where it all began.