How justice minister became embroiled in Shattergate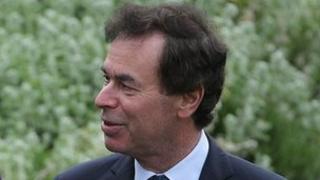 The Irish justice minister, Alan Shatter, is expected to face questions from his political opponents after he confirmed that he failed to complete a breathalyser test when he was stopped by police.
Much media attention over the last week in the Republic has been devoted to what has become known as Shattergate.
It all began with a spat in an RTE television studio.
Alan Shatter was on the Prime Time programme debating with the independent Wexford TD, Mick Wallace the controversial issue of police officers using their discretion on the issuing of penalty points to motorists who have been stopped for committing an offence.
Mr Wallace, who has a fondness for pink shirts, was one of a number of independent left-wing TDs who had criticised the police for allowing a situation whereby some well-connected sports stars, journalists and others appeared to have had their offences removed.
Opponents
Many viewers were of the opinion that Mr Shatter was winning the argument when the Justice minister casually mentioned the Mr Wallace had himself benefited from police discretion on a penalty points offence.
Mr Wallace, who last year was in political trouble after he admitting deliberately underpaying the VAT he owed to the tax authorities, appeared taken aback.
It later emerged that that there had been a discussion between himself and officers last year when he was stopped at traffic lights in Dublin and making a phone call. A patrol car had pulled up beside him and opened a window.
Mr Wallace says he was not stopped nor warned. He just raised his hands and said: "OK".
Mr Shatter's political opponents saw a chance to attack him and asked how he could possibly know about such an event.
Who had informed him if there appears to have been no formal police warning? Was he keeping a record on his foes? And most importantly of all was this not an abuse of power?
Mr Shatter, who is an energetic minister, whom some say has a reputation for arrogance, replied that he was merely pointing out the hypocrisy of a TD criticising police discretion on penalty points offences when he himself had availed of it.
Journalists
And as for his source, it was the Garda (police) Commissioner, Martin Callanan, he said.
When Mr Callanan next faces the media he is sure to be asked about this and whether his relationship with the minister is too cosy.
In the days that followed journalists went through parliamentary records and found statements from Mr Shatter when he was in opposition criticising Fianna Fail ministers for appearing to behave in exactly the same way as he had just done.
But with Enda Kenny standing firmly behind his justice minister the story appeared to be dying a death.
And then another independent TD, Mattie McGrath, got up in the Dail (lower house of parliament) and asked whether Mr Shatter himself had been stopped by police in 2011 and whether his attitude to the officers was hostile.
With TDs taking in a deep breath and wondering whether the saga was about to take another twist the justice minister, who was not in parliament, promised through a spokeswoman to answer the questions.
Loyalty
In a later statement Mr Shatter confirmed he had been stopped in either late 2008 or 2009 but failed to complete the breathalyser test because of his asthmatic condition and was waved on.
He says he had not been drinking and was returning home from Dail business. TDs going about parliamentary business cannot be arrested.
The justice minister's statement did not mention his attitude to the officers who stopped him.
And opposition TDs want to know why he did not volunteer any of this information earlier. They also want to know whether his mentioning of Dail business played any part in the decision by police to use their discretion.
For political journalists this has been a story that just keeps giving with lots of mentions of hypocrisy and sauce for the goose and sauce for the gander.
But Alan Shatter showed great loyalty to Enda Kenny when his leadership of Fine Gael was under threat just before the last election.
And Enda Kenny over the last week or so has been returning that loyalty.