Blocking bill is "two fingers up" to unionists: Mallon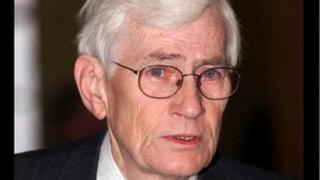 Former SDLP deputy leader Seamus Mallon has warned his party against blocking a bill that would prevent former prisoners guilty of serious offences becoming Stormont special advisers.
Mr Mallon, a former deputy first minister, accused the SDLP of "putting two fingers up" to unionists.
A row broke out two years ago, after ex-prisoner Mary McArdle was made a Sinn Fein minister's adviser.
She had been convicted of killing Catholic teacher Mary Travers in 1984.
Ms McArdle has since moved to a different position within Sinn Fein.
Ms Travers was shot dead by the IRA as she walked out of Sunday Mass with her father in Belfast. Her sister, Anne, is backing the bill and met the SDLP last week in a bid to change their minds.
Mr Mallon accused the SDLP of "putting two fingers up to the unionist community and the community at large".
He said the promotion of certain people to power in Stormont was "to negate any of the basic philosophies of the Good Friday Agreement".
"I hope the party changes its mind and I will do my best to ensure that they do," Mr Mallon said.
"I know the mood and feeling in the community. In politics, when you are explaining, you are losing."
The Traditional Unionist Voice (TUV) brought forward the bill that seeks to ban anyone who has been sentenced to more than five years in prison from taking up a post in the future.
Sinn Fein, which has 29 MLAs, is opposed to the bill and if the party joined forces with the SDLP's 14 MLAs, both parties would be able to secure a petition of concern.
Earlier last week, an SDLP MLA had indicated his party would seek to block the special advisers bill because they were unable to amend several aspects of it. The party said the legislation did not have an effective appeals mechanism.