Peter Robinson and Martin McGuinness in visit to China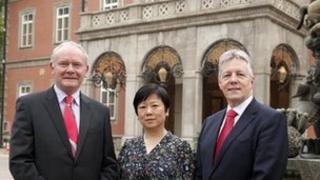 NI's first and deputy first ministers are in Beijing on the first day of a week-long visit to China.
The aim of the visit is to "strengthen government to government relations and to further develop trade, investment, cultural and university links".
Peter Robinson and Martin McGuinness met Li Xiaolin, president of Chinese Peoples Association for Friendship and Foreign Countries, on Monday.
Mr Robinson said they would meet key government departments on their visit.
"Just over a year ago we had the pleasure of hosting Vice President Madam Liu and her colleagues to Belfast," Mr Robinson said.
"During the visit we opened the Confucius Institute at the University of Ulster and signed a number of partnership agreements with Queen's University Belfast.
"Following the visit of Madam Liu our relationship with China has grown stronger. This week we will talk to key Chinese government departments to explore how we can further develop existing links."
Deputy First Minister Martin McGuinness added: "We are encouraged with the growing relationship we have with China and we hope through our series of meetings in Beijing we will be able to identify more mutually beneficial areas of work.
"I hope we will see more exchanges between our young people and partnerships between our universities in the future."