G8 information newsletters for Fermanagh households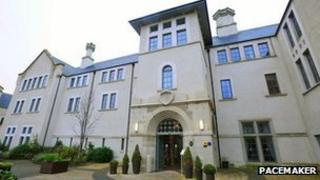 Households in County Fermanagh are to receive newsletters later with information on disruption likely to be caused by the G8 summit.
The summit is being held at the Lough Erne resort on 17 and 18 June.
The Lough Shore Road leading to the resort is set to close from 1 until 28 June.
Police have said that, at present, there are no plans for permanent check-points on the roads around Enniskillen, but these have not been ruled out.
A number of public meetings have been held in Fermanagh to discuss the impact of the summit on residents.
Last Tuesday night about 200 people at a meeting in Derrygonnelly were told that just 10% of the Lower Lough Erne area would be affected by restrictions
Representatives of the Foreign and Commonwealth Office (FCO) said the venue had been chosen by Prime Minister David Cameron, ahead of more than 100 other locations.