The Fall: BBC NI crime thriller gets second series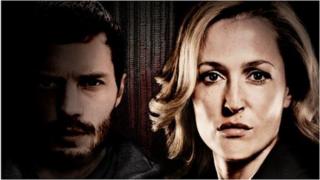 The BBC has commissioned a second series of the psychological thriller drama, The Fall, set in Northern Ireland.
The five part drama stars Gillian Anderson as Det Super Stella Gibson and Jamie Dornan as serial murderer Paul Spector.
The Fall has become BBC Two's biggest drama series to launch in eight years with an average audience of 3.5m.
BBC drama controller Ben Stephenson has called it "a critical and ratings hit".
"With more of Allan Cubitt's intricate and thrilling plot revelations yet to unfold through the captivating performances of Gillian and Jamie, a second series is a must," he said.
"Obviously we can't give too much away as the first series builds to a gripping cliff-hanger but what we can say is it will be as surprising and intense as the first."
Writer Allan Cubitt said working with BBC Northern Ireland and the Artists Studio had been the best experience of his career.
"I always envisioned The Fall as a returning series and wish to congratulate both Gillian Anderson and Jamie Dornan who have played their parts to perfection," he said.
Setting The Fall in Belfast and the surrounding area was "an easy choice", he said at the time that the first series was launched.
" I've always found Northern Ireland a fascinating place, culturally and geographically, and I already had a great working relationship with Stephen Wright and BBC NI.
"Having the city as a backdrop - hopefully almost a character in itself - also allowed me to draw on the disproportionate amount of home-grown acting talent there is. I really hope that seeing those actors - some relatively new to the screen - working alongside someone as iconic and potent as Gillian Anderson will make for compelling viewing."
BBC NI's Director Peter Johnston said The Fall was an important project for BBC Northern Ireland. Speaking at its launch, he said: "It has involved significant financial investment and will showcase the skills, talent and expertise of our local creative sector. We are delighted to have been able to create a drama series of this scale and ambition and know that it will provide audiences with some gripping and memorable television. "
The final episode of series one is due to air on 10 June on BBC Two.