Coleraine council denies dogs ban consultation 'shelved'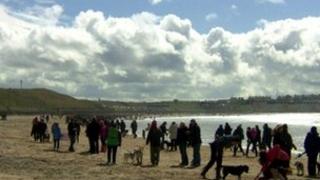 Coleraine Borough Council in County Londonderry has denied reports that it is "shelving" the current consultation for plans to ban dogs from beaches.
Earlier, councillor Norman Hillis had said officers were inundated with objections before the consultation period ended.
He added the plans would not be examined by council until September.
The proposal followed complaints about dog owners failing to clean up after their pets.
In April, about 700 dog owners took to the beach at West Strand in Portrush, County Antrim, to protest.
The consultation process finished at the end of April.
Mr Hillis had also told Radio Foyle he did not believe the plans would be revived.
"I can categorically say it will not come into force," he said.
"I am told there are thousands of respondents, not unsurprisingly if my email, personal calls, and letters I got are anything to go by.
"So, officials will be sifting through all these thousands of responses and we are told at council that it is unlikely that anything will come to the council until at least September. So dog walkers are safe to walk their dogs.
"I'm not a betting person but I would be happy to put the house on it that it won't come in."
In a statement the council said there had not been any change to the timeframe for the consultation.
Original deadline
"The submissions from the public are currently being reviewed and taken under consideration, ready to be put forward in a report with recommendations to the full council meeting in September/October this year, as originally planned," it said.
"All responses must now be collated, analysed and developed into options for consideration by council members. Council meetings during July and August are restricted to urgent business, therefore it was always envisaged that this matter would be brought before the September 2013 leisure and environment committee for its consideration."
The council is empowered to devise dog control orders to replace its existing by-laws for dogs under the Clean Neighbourhoods and Environment Act (NI) 2011 which came into force in April 2012.
Kieran Doherty, from the council's environmental services, said the consultation process had not changed and the council "is still working towards the original deadline for submission to full council for members' decision by September 2013".
According to Mr Doherty, the dogs exclusion order proposes excluding dogs from areas such as playgrounds, playing fields, tennis courts, bowling greens, golf courses, West Strand Beach, war memorials and the Rose Gardens, Coleraine.
Current regulations on where dogs can be walked from May to September still apply.