Donegal Council calls for John Downey's release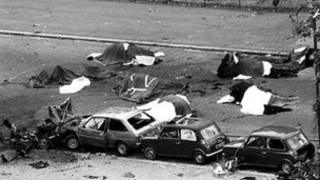 Councillors in County Donegal are demanding the release of a local man accused of murdering four soldiers in an IRA bomb more than 30 years ago.
John Anthony Downey, 61, from Creeslough, has been charged with detonating the Hyde park bomb.
He is currently being held in custody in England.
Mr Downey was arrested last week at Gatwick airport as he travelled to Greece for a family holiday with his wife and 10-year-old daughter.
A motion calling for his release was passed at a meeting of Donegal County Council on Monday.
Mr Downey is being held in London's Belmarsh prison charged with detonating a bomb in Hyde Park in 1982.
He is also charged with causing the deaths of Roy John Bright, Dennis Richard Anthony Daly, Simon Andrew Tipper and Geoffrey Vernon Young.
The four Household Cavalry members were killed en route to Buckingham Palace.
He appeared via video link from prison for a bail hearing on Friday.
The bomb that Mr Downey is charged with planting was the first of two that caused carnage in London on that day.
In total, 11 people died and 50 were injured by the bombs, which exploded less than two hours apart.
Sinn Fein Councillor Jack Murray proposed the motion, which was seconded by Fianna Fail. While only 13 out of the 29 councillors were present for the vote, as all parties were represented and no one opposed, the vote was recorded as unanimous.
Councillor Murray said Mr Downey "should never have been arrested".
"In 2007, he received a letter from the British Government, informing him that he was not wanted by any British police force. He then travelled to Britain numerous times without any problems.
"John has been a long time supporter of the peace process and as a peace worker he regularly engaged with unionists. He always put his head above the mark in promoting a new republic."
"I don't think the British government is going to wake up tomorrow and say Donegal County Council has told us what to do, but it was Donegal County Council laying out quite clearly that the Good Friday Agreement should be defended."
No bail application was made and Mr Downey was remanded until 5 June when he will appear at a preliminary hearing at the Old Bailey.