'IRA gang' tried to blackmail businessman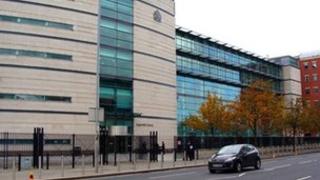 A gang claiming to be from the IRA tried to blackmail £12,500 from a businessman, a Belfast court has heard.
It was alleged the businessman, known only as Witness A, was targeted because he had been involved with the victim of a paramilitary-style shooting.
The court heard that John Clarke, from Ardglen Place, west Belfast, was a leading member of the blackmail plot.
The 37-year-old denies a single charge of blackmailing Witness A on dates between 15 to 24 September 2010.
Two other Belfast men, William Barker from Filbert Drive and Christopher Notorantonio from Avoca Close, have already pleaded guilty to the same charge and are awaiting sentence.
Arranged meeting
Opening the case against Mr Clarke at Belfast Crown Court, a prosecution lawyer claimed the defendant had visited Witness A's business and had also been responsible for the majority of demanding telephone calls made to the alleged victim.
The lawyer said that according to the Crown case, Mr Clarke and another man visited Witness A at his work on 15 September 2010 and demanded that he hand over £8,500 as the pair knew he had been involved with a man who had been shot in the legs three days earlier.
"The men said it was all about the IRA and Witness A said he would sort something out," claimed the lawyer.
Two days after their visit, the prosecution said the businessman received numerous phone calls alleging that the press were "jumping at the bit for a story".
The court heard that as a result of these calls, Witness A withdrew the cash from his bank account and handed it over to Mr Clarke and William Barker at an arranged meeting in south Belfast.
The prosecution lawyer said that when the money was handed over, Mr Clarke demanded a further £4,000.
Recorded calls
The defendant allegedly told the businessman that "the bosses wanted another £4,000... and at the end of the day, it was more money for the army".
The court heard that in fear of his life, Witness A reported the matter to the police on 21 September and all further calls between the gang and the businessman were recorded.
A further handover of cash was arranged for 24 September 2010.
The court heard that the police gave Witness A an envelope containing £3,000, which he handed over to Barker later that day.
Barker was then driven away in a black Vauxhall Vectra driven by Notorantonio.
When the vehicle was stopped nearby, officers recovered the cash from the glove box and arrested Notorantonio.
During police interviews after his arrest, Mr Clarke admitted going to Witness A's business with Barker but claimed he had been "collecting a legitimate debt".
The trial continues.