100-year-old west Belfast woman targeted by bogus caller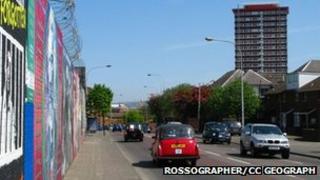 A 100-year-old woman targeted by a burglar who conned his way into her home in west Belfast has said the experience has left her too frightened to answer the door.
The man was disturbed when Madge Morgan's home help arrived at her house off the Falls Road on Monday and he left empty-handed.
She thought the man, who said he was from NI Water, was there to help her.
He called at a number of homes in the area.
When he was challenged by Mrs Morgan's home help, he made off on foot with two other men in the direction of the Falls Road.
They are all believed to have been in their late teens.
Police have distributed warning leaflets to houses in the area highlighting the dangers of bogus callers.
The pensioner, who celebrated her 100th birthday three months ago, explained why she had thought he was a legitimate caller.
"He said 'you have a leak and I'm checking all the different houses, I've just been with Mrs Rowntree'," she said.
'Scum of the earth'
"When he mentioned that, I thought that was genuine enough.
"I think they're sick and unhappy, they're sick people, they're not normal."
Her neighbour, Harry Morrison, said he was appalled to hear pensioners were being targeted.
"They're scum of the earth," he said.
"They're no good, that's what they live on, old people living on their own, hoping to get something off them.
"They think they've got money, but they haven't. They're just elderly people on their own."
Police said householders should not let strangers into their homes and inform them of any incidents of this nature.
"Bogus callers depend on the good nature and goodwill of others," a police statement said.
"They tend to target the more vulnerable members of our society and in particular, older members of our community.
"It is always advisable to be cautious of unexpected callers.
"It is worth remembering that bogus callers will use all sorts of tactics to gain access to a victim's home.
"Everyone should follow this advice when dealing with unexpected visitors."