Connswater Greenway contract awarded to Maghera company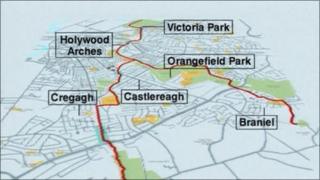 A contract to deliver the first phase of the Connswater Community Greenway project has been awarded to Maghera based BSG Civil Engineering Ltd.
The initial phase will cost £4m. The total project is worth £35m with the second phase due to begin next Spring.
The Connswater Community Greenway project stretches from Belfast Lough to the Castlereagh Hills.
The rest of the funding will cover public art, land purchases, employment and management of the greenway.
The project aims to clean up the rivers, build or improve 30 bridges, and create a 9km riverside pathway for walkers and cyclists.
The contract awarded to BSG Civil Engineering will deliver a significant part of the £11m east Belfast flood alleviation scheme aimed at providing increased protection for properties currently at risk of river and tidal flooding
Specific focus is on Orangefield and Victoria Parks, including the construction of flood walls, earthen flood embankments and river realignment works which will enhance protection to homes in the areas under threat of flooding.
Lord Mayor Gavin Robinson, said: "The greenway is an integral part of Belfast City Council`s £150m investment programme and is going to transform the east of the city - and I am thrilled to make this announcement as one of the last major engagements in my year of office.
"This project is a key example of how major projects can be taken forward in partnership between local and central government and between the private and public sectors, but with the local communities in the driving seat," he said.