William McDonnell and Paul McConnell deny having 'terror' items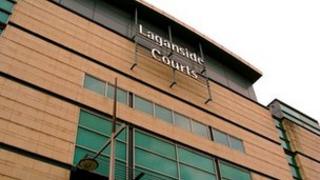 Two Londonderry men have appeared in court in Belfast, charged with having various items connected with terrorism.
William Martin McDonnell pleaded not guilty to having five imitation assault rifles, two blank firing pistols and balaclavas among other items.
The 26-year-old, from Rinmore Drive, also denied having an 8mm blank calibre pistol under suspicious circumstances.
Paul McConnell, from Eastway Gardens, denied possessing a car for purposes connected with terrorism.
The 45-year-old taxi driver was charged with having a Chevrolet Epica vehicle for a purpose "connected with the commission, preparation or instigation of an act of terrorism" on 12 July last year.
The charges against Mr McDonnell arose after police uncovered various items when they raided his house on the same day last July.
In addition to the imitation weapons, he is charged with possessing three holsters, five camouflage jackets, belts, black gloves, black shoes, binoculars and a two-way radio for a purpose connected with terrorism.
Mr McDonnell was remanded back into custody.
Mr McConnell was released on continuing bail until their trial, which is due to begin in September.