Northern Ireland Tourism awards recognise success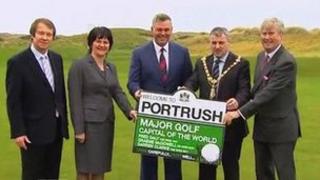 Northern Ireland's tourism industry has recognised over 30 businesses at its annual awards.
The awards are organised by the Northern Ireland Tourist Board (NITB).
The winners included The Irish Open - The European Tour as best event or festival and Belfast Zoo for best visitor experience.
Tourism Minister Arlene Foster said: "Tonight we can applaud the best in tourism and all that is great about our industry.
Ms Foster said 2012 had been a successful year and moved tourism into a key position in the economy.
"Its legacy is a firm foundation that we can build on and use to increase our future prosperity.
"As Tourism Minister, one of my priorities is to make sure we keep the momentum going," she said.
"Through the high-profile events that are coming up in 2013 we are creating further opportunities for tourism and I am sure everyone in the industry will be doing everything possible to take advantage of them."
NITB Chairman Howard Hastings said last year the industry demonstrated they could successfully open "world-class attractions and we can run spectacular events".
"And in delivering on this we can all work together and do so with pride," he said.
"From a confident vantage point, we can therefore look ahead to 2013 and to 2014 where there are many more opportunities for Northern Ireland to shine and for tourism to prosper."