Youth oscars celebrate positive impact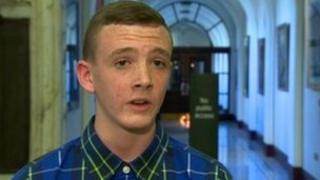 Teenagers and young people from across Belfast had their moment in the spotlight at the annual youth oscars.
The awards recognise young people under the age of 21 who have made a positive impact in their communities in all walks of life.
One of the winners was an Irish title winning boxer, Brendan Irvine. He said he was delighted to be recognised.
"I think it's very important that kids come from a young age because it helps everyone in the community get along"
Deputy Lord Mayor of Belfast, Councillor Tierna Cunningham, said she had been overwhelmed by the achievements of the young people.
"To hear so many stories which are truly inspirational is really encouraging and is proof that this city's younger generation has a vital role to play in communities," she said.
"I'm delighted that every year we shine the spotlight on young people who are deserving of our praise and recognition, to encourage them and to ensure they feel valued for the work they're doing."