Special Adviser Bill: 'Do not base legislation on victims' feelings'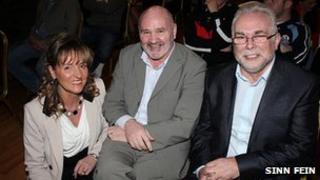 A convicted IRA killer and the deputy first minister's top aide said he will be sacked under proposed legislation on special political advisers (SPADs).
Paul Kavanagh served 14 years in prison for killing three people in an IRA bombing campaign in England in 1981. He currently advises Martin McGuinness.
A bill preventing anyone with serious terrorist convictions from becoming a SPAD is due to be passed next week.
Mr Kavanagh said he did not understand how bad legislation would help victims.
Mr Kavanagh, who is married to the Sinn Fein MEP Martina Anderson, said it was wrong to base legislation on the feelings of victims.
'Bad legislation'
"I can't speak for all victims, I don't understand all victims, but I can speak (for) my own family because we had a brother who was killed, so I understand that feeling of loss.
"But to say you are taking your lead from Anne Travers or any of the other victims, well, I don't understand how now passing bad legislation will help victims," he said.
"We ended up in this state because of discrimination and excluding people, and this just appears to me to be more of the same."
TUV (Traditional Unionist Voice) MLA Jim Allister, speaking on BBC's Good Morning Ulster programme, said: "This does not even discriminate against terrorist criminals.
"This legislation applies to all serious criminals, be they rapists, be they fraudsters or be they terrorists, but of course, Sinn Fein are interested only in protecting the interests of their own.
"They have turned it into something you would think only applies to them."