Smithwick Tribunal: Officer refuses to give bank details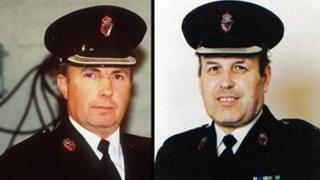 A former Garda (Irish police) sergeant who denies passing information to the IRA during the Troubles has said he will not give his banking details to an inquiry into the murders of two senior RUC officers.
Owen Corrigan denies passing information to the IRA for any motive, including money.
The Smithwick Tribunal is investigating the murders of Chief Supt Harry Breen and Supt Bob Buchanan.
They died in south Armagh in 1989.
On Friday morning, lawyers for the tribunal again asked whether Mr Corrigan was prepared to hand over details of his finances.
His lawyer told the inquiry that he was not, as no other witness had been asked to do so.
The tribunal will decide in a private session on Friday afternoon whether to go to the High Court in Dublin and seek an order compelling Mr Corrigan to comply or take him up on his offer to answer their questions verbally.
The tribunal had been expected to conclude its public sessions on Friday but that may now not be the case.
The two senior officers were killed in an ambush shortly after leaving a meeting at Dundalk station.
The Smithwick Tribunal was established in 2005 and is being chaired by Judge Peter Smithwick.
It was due to conclude in November 2011, but has been granted a number of extensions by the Irish government.