Northern Ireland politicians hold Colombia peace talks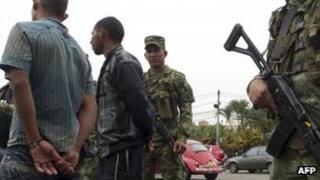 A delegation of NI politicians is holding talks with negotiators representing the Colombian rebel movement, FARC.
Conall McDevit (SDLP), Conor Murphy, (Sinn Fein), Jeffrey Donaldson (DUP) and unionist John McCallister met the Colombian government last November.
They are in Cuba to talk to the FARC rebels about conflict resolution.
They are discussing what might be learnt from what is known in Colombia as the "Irish model".
Hundreds of thousands of people are thought to have died in the long running civil war in Colombia.
On one side is the Colombian army, on the other fighters from the Marxist FARC rebel group.
Rebels
FARC campaigns on behalf of landless peasants. It has also been involved in Colombia's lucrative drugs trade.
Right wing paramilitaries have also been blamed for massacres of Colombian civilians.
Since 2012 peace talks have been underway in the Cuban capital Havana, which is where the Northern Ireland politicians will hold their talks with FARC.
With violence continuing, many ordinary Colombians feel excluded from the peace talks.
One point the Northern Ireland politicians will make is the need to include wider society in any deal - a message some of the Colombian negotiators appear to be taking on board.
One of the last times Colombia hit the news in Northern Ireland was 12 years ago, when three Irish republicans were arrested and charged with training FARC rebels.
That Colombian episode stirred division and controversy at Stormont.
This time unionists, nationalists and republicans are far more likely to present a united front.