Belfast: SS Nomadic opens to the public after seven years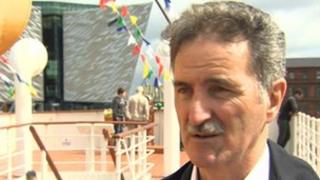 The SS Nomadic has opened to the public for the first time since it was brought back to Belfast seven years ago.
The ship that served the Titanic has had a £7m re-fit to restore it to its former glory.
Organisers are hoping that at least 40,000 people will pay to visit it in its first year.
The ship is the last remaining vessel of the White Star Line. It will be open for visitors on the Belfast docks where it was built and fitted out.
Dr Dennis Rooney, chairman of the Nomadic Trust said that it was wonderful to welcome people on board.
"There is a lovely buzz around the place," he said.
The reactions of visitors have been tremendous. People are almost gobsmacked by their experience. I don't think they expected to see quite so much on board."