Executive will pay £6m of £60m bill for G8 summit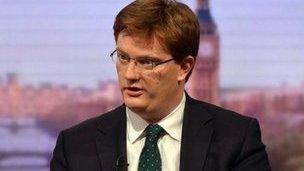 Finance Minister Sammy Wilson has said hosting the G8 summit this month will cost the Northern Ireland Executive around £6m.
The total cost is expected to be £60m, with the Westminster government paying the rest of the bill.
The announcement came after talks between Mr Wilson and Treasury Minister Danny Alexander in Belfast.
World leaders will gather at the Lough Erne resort outside Enniskillen on 17 and 18 June for the economic summit.
"We have put in place funding arrangements which makes sure the government is picking up the large majority of costs," Mr Alexander said.
"This is a national event and we are grateful to people here for hosting it."
Some Policing Board members have expressed concern that there would be an impact on normal policing if the PSNI carried any costs associated with the huge G8 operation.
Mr Alexander also said that he did not anticipate the PSNI's budget being reduced by an upcoming national spending review.
Several years ago, the Treasury provided additional finances for counter-terrorism.
"I understand the need and we will make sure whatever is required is provided," he said.