Special Adviser Bill: MLAs debate final stages at Stormont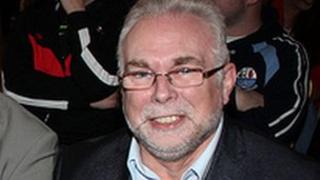 MLAs have begun debating the final stages of a bill that would bar anyone with a serious conviction from being a special political adviser (SPAD) at Stormont.
Sinn Fein has submitted a petition of concern in an attempt to block the legislation being passed.
The party has 29 MLAs, so is one signature short of what would be required to prevent it becoming law.
The bill was put forward by the TUV leader Jim Allister.
It was introduced after Sinn Fein appointed Mary McArdle as a special adviser.
Ms McArdle was convicted for her part in the murder of judge's daughter Mary Travers, whose sister, Ann, launched a campaign that inspired the bill.
Ms McArdle was later moved from her post as an adviser to Culture Minister Carál Ní Chuilín.
Mr Allister said the bill was about "righting a great wrong".
"The bill is about the very simple message that, in respect of families such as Ann Travers, never again will such re-traumatising of a victim's family be permitted," he said.
He denied that the bill was vindictive.
"It is not vindictive to say that serious criminals should not be employed out of the public purse in such pivotal, central roles. It would be unconscionable to say that they should be," he said.
"I have said that, whereas the bill must officially be called the Civil Service (Special Advisers) Bill, I trust that, in common language, it will, if passed, become known as 'Ann's law'. That would be a tribute in itself to Ann Travers, her family and the tremendous courage that has been shown."
If the bill is passed, Martin McGuinness's adviser, Paul Kavanagh, will lose his job.
He was jailed for his part in two London bombings that claimed three lives.
Last week, Mr Kavanagh, who is married to the Sinn Fein MEP Martina Anderson, said it was wrong to base legislation on the feelings of victims.
John Radley was a 21-year-old lance corporal in the Irish Guards when he was almost killed by an IRA nail bomb in London more than 30 years ago.
It exploded on the Ebury Bridge Road, yards from the barracks.
Mr Radley said Mr Kavanagh, who was jailed for his part in the 1981 Chelsea Barracks bomb, ruined his life.
After a few years, Mr Radley was medically discharged from the army.
He said it was right that Paul Kavanagh should lose his special political adviser's job.
If passed, the legislation would also apply to anyone who had been sentenced to five years or more.
Under the legislation, special advisers who have been sentenced to more than five years in prison will be granted an appeal process.
This process would give victims a say and would require the former prisoner to show contrition and assist police in solving their crime.
The SDLP is expected to abstain in the vote.
Last month, the SDLP said it was considering supporting a petition of concern to stop the bill from becoming law, because SDLP amendments had not been accepted.
The petition would have forced a cross-community vote and effectively blocked the bill.
The party later said it would not block the bill after Ms Travers met the SDLP leadership and asked them to reconsider.
The party's former deputy leader, Seamus Mallon, also warned against the move.
Groups of victims who support or oppose the bill were at Stormont.
John Loughran, a spokesman for people whose relatives died at the hands of the security forces, attacked the SDLP for failing to veto the bill.
"We believe as families that the legislation is flawed," he said.
"We feel in some ways that we have been misled by the SDLP, in many respects we also feel betrayed.
"What we now see is a piece of flawed legislation that is actually contrary to the needs of putting victims first."
Serena Hamilton was seven years old when her father David Graham, a UDR soldier, was killed by the IRA in 1997 while off duty in Coalisland.
"The victims are being heard for a change and that's that the victim-makers should not hold any position whatsoever. They were the victim-makers and we would like to see this bill go through today," she said.
A vote is expected later.