Rev Rob Craig installed as moderator of Presbyterian Church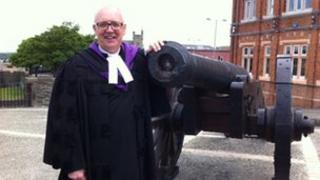 The Rev Rob Craig has been installed as the new moderator of the Presbyterian Church.
He was formerly minister of Kilfennan Presbyterian Church, Londonderry.
Dr Craig was nominated by 17 out of the 19 presbyteries in February and said he was "deeply humbled and honoured to be elected moderator".
He succeeds Dr Roy Patton, the outgoing moderator, who held the post for the last year.
Speaking after his installation, Dr Craig called on the Presbyterian Church to become a "place of transformation" where people would be "challenged and changed" for the better having "encountered the living God through the worship and in the lives of the people they meet within the church".
Turning to transformation outside the church, Dr Craig had praise for those who he said "are working hard to transform life within Ireland - seeking to make this island a better place for us all to live in".
Mentioning police officers, community workers, politicians, businessmen and women, teachers and parents raising their children, the moderator noted that "there are few, if any, who do not want Ireland, north and south, to be a better place for their children: a place where jobs and opportunities are being created, where sectarian hatred is being eroded and where a shared future has become a reality".
The Presbyterian Church's 2013 general assembly is being held in Dr Craig's home city of Londonderry.
The church's general assembly took the decision two years ago to meet there to mark Derry's year as UK City of Culture.
It is the first time in 22 years that the Assembly has met out of Belfast and it was 1933 when it last met in the city.