Willie Frazer in court over alleged bail breach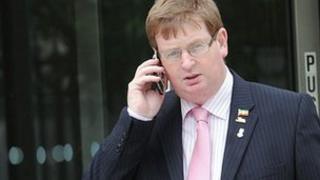 Loyalist campaigner Willie Frazer, who is charged with offences linked to flag protests, has appeared at Belfast Magistrates' Court accused of breaching his bail conditions.
Mr Frazer, 53, from County Armagh, is charged with encouraging offences by an address to demonstrators in January.
He is also accused of taking part in an un-notified procession, obstructing traffic and possession of a Taser.
In March, he was granted bail on a series of conditions.
They include that he live at his home in Markethill and make no public speeches nor social media comment over the union flag dispute.
Mr Frazer must also stay at least two miles from any public protest or procession and must report to the police once a week.
Declined
Police claimed he breached the terms of his release twice last week.
Officers monitoring social media sites discovered he had posted an allegedly flag-related comment on his Facebook page, Belfast Magistrates' Court was told on Monday.
A second suspected breach involved quotes from Frazer in a newspaper report about a woman jailed last week for rioting linked to the protests.
Mr Frazer was not arrested and attended court in an arrangement between police and his solicitor.
Although no attempt was made to have his bail revoked, a PSNI officer expressed concerns that any further public comments by him could heighten tensions.
She sought an additional condition that Mr Frazer is not to participate in any media interviews whatsoever.
However, District Judge Fiona Bagnall declined the request and noted the original High Court order was specifically related to flag-related issues.
"I'm reluctant to widen that any further, to say there is a blanket (ban) and he's not entitled to speak to anybody," Judge Bagnall said.
"As far as I'm concerned I'm releasing him again on the same terms as have been previously set.
"If they want to have the terms amended they should go back before the High Court."
Mr Frazer was released and is due to appear again on June 28.
A spokesman for the Ulster People's Forum, he is one of the most high-profile figures to be charged in connection with ongoing demonstrations over the decision to limit flying of the union flag at Belfast City Hall.