Jordanian Paralympians: Sex charges against two withdrawn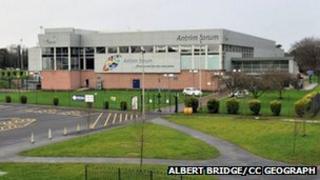 Sex offence charges against two members of the 2012 Jordanian Paralympian squad have been withdrawn.
Faisal Hammash, 36, was charged with two counts of causing a child to engage in sexual activity, during the team's preparations in Antrim for the London games.
Motaz Al-Junadi, 46, faced one charge of sexual assault. A court has ordered the charges against both be withdrawn.
Another member of the squad, Omar Sami Qaradhi, 32, still faces charges.
He is charged with three counts of sexual assault and one of voyeurism. At least two of the alleged assaults were against children.
A preliminary inquiry into these charges is scheduled to take place at Antrim Magistrates' Court on 25 June.
All the incidents were alleged to have taken place between 16 and 20 August last year.
The allegations stopped all three athletes, who were part of Jordan's power-lifting team, from taking part in the games.
All three men were allowed to return to Amman in Jordan following their first court appearance.