Greiner Packaging Ltd creates 10 new jobs in Dungannon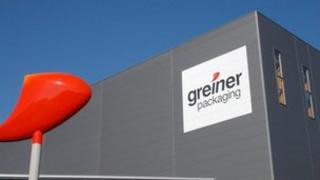 A County Tyrone-based packaging company is to create 10 new jobs in Dungannon in a £2.2m expansion.
Greiner Packaging Ltd currently employs 210 staff in NI and is investing in state-of-the-art labelling equipment.
The Austrian-owned company said the investment had enabled it to expand its packaging portfolio and secure significant new business from international customers.
Invest NI is contributing £200,000 to the project.
'Strategic'
Enterprise Minister Arlene Foster said: "This investment of £2.2m is a testament to the vision of the company in continually introducing new technology and manufacturing processes that is enabling it to meet market demand for this packaging expertise, especially from major customers in food processing.
"The scale of the investment by the Greiner Group is evidence of the quality and calibre of the Northern Ireland operation and speaks volumes on its ability to deliver in challenging economic times."
Jarek Zasadzinski, chief executive of Greiner Packaging UK, said: "This is a significant strategic investment for the company and indeed the group.
"In 2012 Greiner Packaging Ltd saw a growth of over 17% and was the fastest growing site from Greiner Packaging International. Thanks to this new technology the growth in 2013 will be even on a larger scale.
"This strengthens the position of the operation here in Dungannon substantially and provides scope for further and faster growth in both short and long terms."